HVAC Installations for New Construction Projects
Whether you're a builder or a homeowner working with a contractor to construct a new home, B&B Heating & Air, Inc. offers new HVAC installations, including ductwork and quality units from Carrier and Bryant. We offer free estimates for new system installations and will honor our workmanship warranty with the homeowner, even when we sell and install the system for the builder.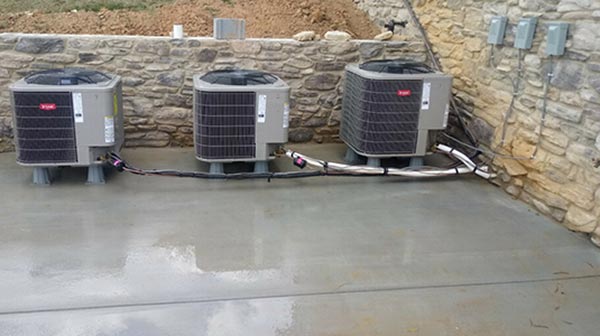 If you've never worked with B&B Heating & Air on a new system installation, we'd love to speak with you and show you what makes us stand out.
We Work for You
New HVAC installations differ from replacing units because you, the builder or contractor, are on a schedule. When something like the heating and cooling system isn't installed on time, other tasks such as flooring, appliance and cabinet installation are delayed. You can count on the B&B Heating & Air team to plan for the installation properly. If you already have the ductwork designed, we'll follow your plans. If you need our experts to assist with planning, we can do that too. And when you're ready for the unit to be installed and connected, we'll do that on the day agreed upon.
Carrier® & Bryant® Authorized Installers
If you're building a home to sell or are building for a family, you want an HVAC brand you know and trust. You also want all units installed by a factory-trained team, so the work is done the way the manufacturer intended. These are just two reasons to trust B&B Heating & Air. Our HVAC installations are guaranteed to be done right, the first time. Your homebuyer will have both the manufacturer's warranty and our installation guarantee, and we can provide regular maintenance of the systems we install.
Contact B&B Heating & Air Today
If you're looking for an HVAC installation company, call B&B Heating and Air at (304) 229-6449. Whether you're building a whole community and need system installations for each home or just one custom-built home, we service the eastern panhandle of West Virginia with quality HVAC installations.